The implementation of digital product development contributes to sustainable supply chains. It reduces the amount of waste generated, increases efficiency, and reduces the need for transportation. Additionally, digital product development allows for better tracking of products, which helps to ensure that resources are used in a responsible and sustainable way.
Booth at OI Sustainability Week
The Otto Group launched its Corporate Responsibility Experience. Together with Otto International's local Corporate Responsibility team, they have put together a diverse programme for the sustainability week of September 18-22, with presentations, articles, and join-in activities.
As part of Oi, featuring LIMITED provides customized virtual product development solutions. Digital solutions have the potential to revolutionize the fashion industry in product development, leveraging end-to-end digital workflows to bring a more sustainable approach. 
To demonstrate how digital product development can contribute to sustainable supply chains, featuring LTD set up a booth in Hong Kong to explore sustainability through digital. It additionally included a denim showcase and results from laser technology and EIM scores. It also included an environmental impact calculator for learning and proving how to conserve the environment. Furthermore, featuring LTD also shared an article discussing the benefits of digital product development for sustainable supply chains during Oi sustainability week for global Oi.
Sustainable Supply Chains Benefit from Digital Product Development
There are many factors involved in the development of textile products, such as designing, sourcing and developing. A variety of resources will be applied throughout the process, such as the use of materials, the making of physical samples for counter purposes, the photoshooting, the fitting, and the pre-production review. Having to go through so many rounds of approval and process will result in unnecessary waste. To reduce waste, it is important to streamline the processes and ensure that the resources are being used efficiently. This can be done by digital solutions, such as the use of 3D simulations, virtual models, virtual sampling and virtual showroom.
In alignment with the global push for eco-conscious practices, digital garments can help to reduce the carbon footprint of the fashion industry by eliminating physical production, transportation, and material waste. 
Digital solutions have the potential to revolutionize the fashion industry under product development, leveraging end-to-end digital workflows to bring a more sustainable approach.
1. Optimise product development:
Digital twins in apparel enable designers and producers to optimize design and development processes. A digital prototype can help eliminate or significantly reduce the need for endless sampling rounds and iterations. This simplifies the design process, saving time, materials, and energy, reducing the need for physical samples by up to 80% and salesman samples by 50%.
2. Reduce material waste:
A digital process can replace traditional methods of creating, designing, styling, adjusting, modifying, and evaluating fit. It is more efficient for designers to utilise resources and reduce textile waste by designing and visualising garments digitally. As digital fashion eliminates the need for physical samples, such as photo-shooting and salesmen samples, it reduces raw material consumption and waste generated for reduction of landfill during the design and development process.
Furthermore, digital up-cycling allows for repurposing excess fabric and transforming it into new garments, minimising waste and maximising resource utilisation.
3. Lower carbon footprint:
Compared to traditional fashion supply chains, digital fashion reduces carbon emissions significantly due to reduced waste and zero physical production. When the digital concept is applied within product development, styles can be simulated virtually. It thus reduces the need to travel on buying trips to attend salesmen meetings. In addition, style adjustments and modifications are made digitally rather than by making samples. 
Digital samples, designs, and fit information can be easily shared online. Eliminating physical shipments will significantly reduce transportation-related carbon emissions. Through this streamlined collaboration, communication is enhanced, errors are reduced, and a more sustainable and efficient supply chain is created.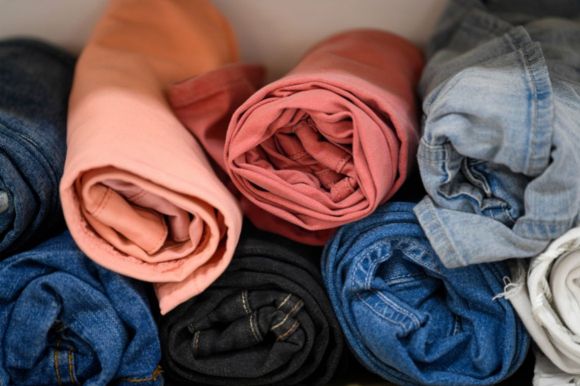 Along with the approval of the garment sample during product development, there will be additional approval and transition sessions, such as lab dip, print strike off, washing panels, handloom, and knit–down, which all result in an overwhelming amount of packaging. The use of digital technology can eliminate the waste caused by packaging. 
5. Virtual fitting and 'try-on':
 A style can be tried on a digital model or avatar in order to see how it looks on them. A reduction in rejections due to fitting issues is achieved as a result of higher levels of designer's confidence in style decision. What's more, fewer sample shipments and returns are needed, which reduces transportation-related emissions. 
Tools for Measuring Sustainability Impact:
Digital technology can measure sustainability impact more accurately across the value chain. Integrating a 3D solution into product development workflow can help you stay on top of your environmental footprint. It also helps identify improvement areas and make informed decisions that will lead to higher level of sustainability. 
Some tools are available for determining the sustainability score for product development, including: 
1. Laser technology in denim product development and EIM Score:
Traditionally, a large amount of washing panels need to be arranged before denim production in order to prove the production colour and wash lots. Many environmental problems are caused as it results in big water, electricity and chemical consumption, as well as more pollutants emission.
To reduce environmental impact during product development, the denim industry has been shifting towards sustainable methods such as laser techniques.
So how does it work? After observing fabric quality with Jeanologia Laser Sensitive Fabric Testing (LSF) and determining laser parameters, eDesigner will be applied to develop digital denim wash effects and finishing. Upon confirmation of all wash effect designs, the data will be imported into a Jeanologia's laser machine for laser printing. The use of laser technologies in denim development can shorten the washing lead time, ensure a stable washing effect, give a flexible wash/print pattern (such as scraping, drilling, rippers, and PP spray), and minimize the impact on chemicals, water, and workers.
There are straight-forward approaches to improving industrial productivity, while also promoting energy efficiency and caring for the environment.
Environmental Impact Measurement (EIM) scores make sustainability measurable within the manufacturing process. An EIM score evaluates how industrial washing affects the environment. It covers four aspects as water consumption, energy consumption, chemical emissions, and workers' health. The lower EIM score, the lower environmental impact a garment has. For more Information about the EIM scores, please visit: https://www.jeanologia.com/eim/
Also check out this featuring's story for more details about using laser technology in denim product development: https://www.featuring.ltd/jeanologia-x-featuring-3d-garment-finishing/
2. Environmental Impact Calculator:
Environmental Impact Calculator can show the amount of carbon dioxide and water saved by increasing the number of 3D styles developed as opposed to creating physical samples. 
For example, Oi CHINA sent around 256,140 samples for development, fitting, and photoshoots in 2022. Let's assume that 21,090 samples for T-shirts could be produced using 3D, and that would result in a saving of 84,360kgs of carbon dioxide emissions and 56,943,000L of water consumption. That's equivalent to the amount of CO2 emission from driving almost 1,110 times from London to Paris and the amount of drinking water for 21,090 people for 2.5 years! Comparing this figures to the traditional method of producing T-shirt samples, doesn't it sound way more attractive? The use of 3D models in sample production is more sustainable and environmentally-friendly, and can help businesses reduce their carbon footprint and cost. 
Here is the number of samples sent from Oi CHINA in 2022 for the specific 7 product groups. These figures are based on all production styles under development, and 10 physical samples per style made from counter sample x2, fitting sample x4, photo-shooting sample x2, and pre-production sample x2: 
Wanna try out the Browzwear's environmental impact calculator? You can do it here: https://browzwear.com/environmental-sustainability-calculator