3D Sweater Knit innovation has reached its next milestone as demand for 3D flat-knit technology continues to grow. featuring LTD recognizes the importance of staying ahead of the curve and has consistently upgraded their knowledge of 3D solutions to meet the evolving needs of their customers. In recent months, there has been a remarkable increase in inquiries regarding 3D sweater knit.
In June 2023, featuring LTD organised two separate workshops in our Dhaka and Dongguan Digi-hubs. These workshops provided insight into various aspects of 3D flat knitting and allowed all participants from the local industry, including buyers, designers, technical designers, suppliers, and experts the opportunity to learn, share, and exchange experiences.
DHAKA DIGI-HUB: Explore the potential of 3D for flat knit sweaters
The Dhaka workshop was held June 21. As part of the workshop, Digi-hub manager Aurelie Rob presented featuring LTD's experiences with 3D sweater knitting and its showcase. Additionally, all participants had the opportunity to join four separate workstations that included exploring how to digitally scan yarn for an accurate simulation; practising artwork conversion into 3D knit jacquard; playing with 3D knitting variations to create unlimited combinations with yarn, style, and color; and lastly, experimenting with 3D simulation and modelling on Browzwear's Vstitcher programme to render styles on models to achieve a realistic appearance.
3D Knit Experience
by Aurelie Rob, Digi-hub Manager, featuring LTD
Experimental Workstations
Yarn Scanning
by Jannatul Moni, Digi Hub Operations Officer, featuring LTD
Artwork Conversion
by Hasibur Rahman, Graphic Designer, featuring LTD
3D Knit Variations
by Sidratul Bushra, 3D Knit Product Developer, featuring LTD
3D Simulations and Modeling
by Cynthia Sircar, 3D Apparel Product Developer, featuring LTD
featuring LTD had the great honour of presenting four guests from the local industry to attend a panel discussion. They shared their experiences with the use of 3D Sweater knits in their business, and participants had the opportunity to ask them further questions.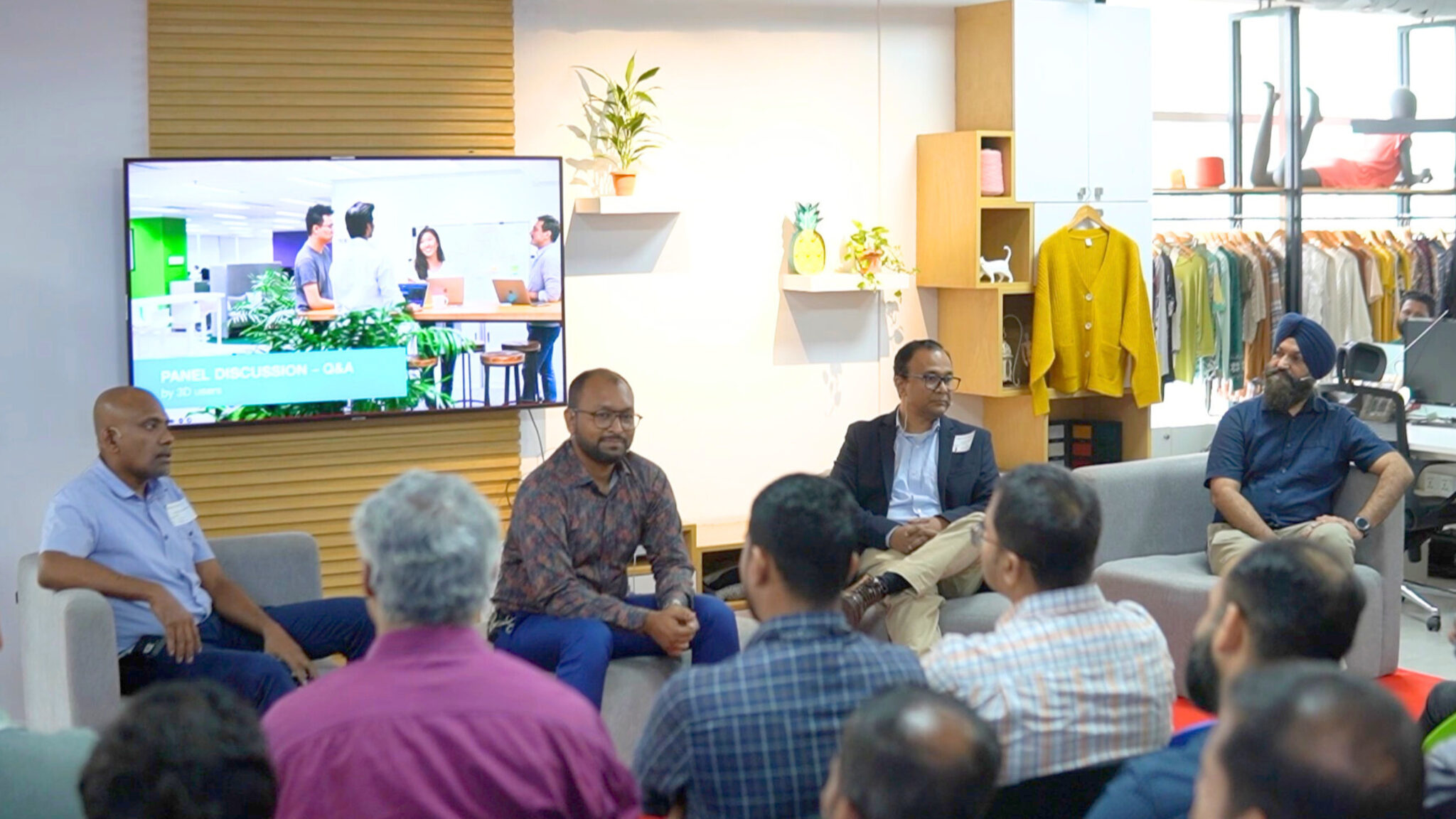 During this discussion, hosted by Aurelie, the panelists provided their unique perspectives on several key topics. These included the benefit of using 3D processes to improve workflow, the challenges associated with implementing 3D, the impact of a relationship between manufacturers and buyers when beginning a digital journey, as well as tips for convincing companies to adopt digitalisation. The discussion provided first-hand insight into 3D processes and the digitalisation of the industry.
Panel Discussion
hosted by Aurelie Rob, Digi-hub Manager, featuring LTD
Welcome to Panel Discussion
Mr. J.M.A.C. Jayakody
Head of PD and Technical, SQ Celsius Ltd.
Mr. Shimul Ghosh
Senior Programmer, Sonia & Sweaters Ltd.
Mr. Indika Prasad
General Manager, Cobalt-Fung Group
Mr. Harinder Singh Saini
Technical Manager, Next Sourcing
Question and Answer Session
Question and Answer Session
"The first goal is to reduce lead times; the second one is to increase sustainability. If you would like to reduce the number of physical samples needed for initial approval, we can use 3D simulations. By reducing samples, we achieve the two goals."
"Many of our customers use both 2D and 3D... They need virtual renders at every stage, such as prototyping, fitting, sizing, initially starting with 2D images, followed by 3D images. So, we already work on a size set sample using 3D. It means from the buyer's side and customer's side if they request 2D or 3D, it can be a good workflow."
DONGGUAN DIGI-HUB: 3D Sweater Knit- How It works?
The Dongguan workshop was held on June 29: it was the first workshop held at the Dongguan Digi-hub since the pandemic. The workshop was open to the public and aimed to provide participants with an opportunity to learn about, experience, and share their local market knowledge about the 3D knit transformation process, as well as highlight the benefits of implementing 3D solutions. The workshop began with featuring LTD GM Katharina Bobrowski, giving a welcome speech. Then our Digi-hub lead, Tim Luo, and 3D product developer, Sity Lau, shared featuring's 3D knit experience and customers' 3D knit showcase respectively.
Welcome to Digi-hub
by Katharina Bobrowski, General Manager, featuring LTD
3D Knit Experience Sharing
by Tim Luo, Digi-hub Lead, featuring LTD
Customer's 3D Knit Showcase
by Sity Lau, 3D Knit Product Developer, featuring LTD
Participants were also shown the process of creating and transforming 3D knits and simulations by using a combination of programmes, from KM.ON's CREATE software to Vstitcher. At the same time, participants joined in a case study demonstration session where a 3D pointelle design was transformed into a digital knit piece. With the STOLL machine at the Dongguan Digi-hub, participants were able to observe how 3D knits can be transformed into physical pieces, and how these "digital twins" can be used to estimate the design's knitting time, which can help in their daily work, such as in the costing process.
3D Knit Creation
Demonstration by Leo Li, Knit Technician, featuring LTD
3D Knit Simulations
Demonstration by Sky Yang, Knit Technician, featuring LTD
The event included a presentation by Billy Cheung from KM.ON concerning digital transformation and the introduction of their CREATE software. As a follow-up, three workstations were set up, including a yarn scan, 3D style simulation, and 3D jacquard creation, enabling participants to get hands-on experience and gain a deeper understanding of the concept.
Digital Transformation
by Billy Cheung, Business Development Manager, KM.ON GmbH
Introduction to CREATE software
by Billy Cheung, Business Development Manager, KM.ON GmbH
Yarn Scanning
Experimental Workstation
Digital Yarn Creation
Experimental Workstation
3D Simulations and Modeling
Experimental Workstation
3D Knit Jacquard Creation
Experimental Workstation
Following two highly successful workshops, featuring LIMITED is planning their next product-specific workshops by the end of 2023.
Subscribe us to stay up to date on the latest news and events.
Let's get started. To learn more,  register for a free appointment at Digi-hub.